EQUUS 175N 6WDC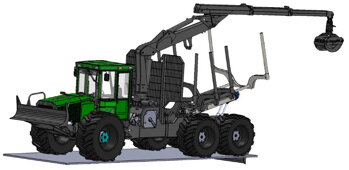 First 6-wheel vehicle model of EQUUS offers combined utilization. Except loading and carrying out of timber bulk, there is also a possibility for the customers to buy harvester head. Therefore it's possible to produce, load and transporttimber with one machine at the same time.
Picture of EQUUS 175N 6WDC
Technical specifications of the EQUUS 175N 6WDC
Motor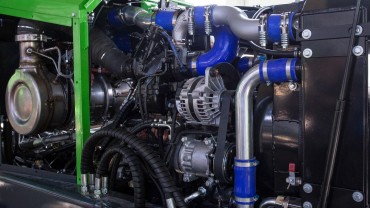 As one of the first forestry skidder manufacturers, EQUUS has installed the most advanced CUMMINS B45 engine that meets the requirements of the most demanding STAGE V emission class. With the power of 175 hp and the torque of 780 Nm, this direct-injection 4-cylinder engine delivers a performance comparable to larger and more expensive 6-cylinder engines, while being lighter, safer and more environmentally friendly.
Type: CUMMINS B45
Power: 129 kW @ 2200 rpm – 780 Nm @ 1500 rpm Stage V.
At the moment the highest environmental standards and with certificates from producer of combustion engine.
Specifications: diesel, 4-stroke with direct fuel injection (Electronic Common Rail)
Nr.of cylinders: 4
Volume of cylinders: 4,5L
Fuel cleaning: water separator, fuel filter
Lubrication: pressurized, circulating with wet oil pan and oil filter
Cooling: coolant circulation through the water pump, termoregulator's valve
Placed: in connection with hydrogenerators
Handling: pedal with potentiometer
Gearbox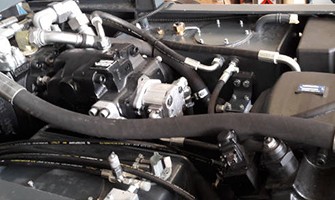 We have used a hydraulic motor concept with enlarged volume of 300 ccm and 45° swinging plate. The higher volume of the hydraulic motor decreases its maximum speed, the swinging plate increases its effectiveness. The 1st gear is suitable for the speed of 0–18 km per hour and for dragging at optimum engine speed, which is the most important contribution to transmission efficiency. The 2nd gear allows the skidder to travel easily over long distances without stopping at the speed of up to 40 km per hour. Hydraulics and certificate are both supplied by DANFOSS company.
Gearbox: Hydrostatic transmission with 3 automatic modes and 2 mechanical transmissions (turtle/rabbit) in a timing case, maximum speed of 40 km per hour forwards and backwards. The timing case allows for the disconnection of the rear axle 4x4 / 4x2.
Characteristics: The hydrostat is a low‑rpm and low‑pressure system. By increasing the volume of the hydraulic motor and decreasing the volume of the transmission, we achieved the optimum efficiency. With our skidder, you will be able to use roads without any fears of engine or hydraulic system overheating, with the speed of up to 40 km per hour! The behaviour of the hydrostatic transmission does not differ from a standard transmission – it
does not slow down under load.
Cabin The cabin, which is an in-house production by EQUUS, offers the highest safety parameters. Not only does it meet the basic limits of the OPS, FOPS and ROPS standards, it even exceeds them. The cabin's position is as low as possible. It thus offers the most convenient way to get in and out of the cabin. Lighting is intelligently installed inside the body and therefore it allows, together with the use of high-quality glass, to eliminate the use of grille protectors. They might be fitted, however, if a customer requests so. The cabin has two doors and therefore it offers the possibility to mount on the machine from both sides. The rear view is improved – there is a new glass panel in the roof of the cabin for better view when working with the hydraulic arm.
Characterictics: EQUUS (FOPS, ROPS, OPS) tilting safety cabin is equipped with Plastrans safety glass (with certificate A/M), suspension, two doors and a 315° rotating workstation (seat). The cabin complies with the strictest safety standards requiring the resistance of the cab to roll-over and breakage.
Equipment: Controlling – steering wheel with 2 joystics, Radio MP3 / USB, electricity 24V, 4 working lights, heating and the sun visor.
Axles
Type: NAF STT
- Rigid axle with wet multi-plate brakes and handbrake for all four wheels and 100% differential lock. Oversized 17 t axle, which is comparable by their parameters to axles installed on machines of higher category (6-cylinder machines). 27 T boogie at the back.
Frame
Material and design: S690QL - high-strength steel 700 N / mm2,
Frame construction: When using tyres 23.1-26 (600mm wide) is the max. width 2450 mm - enables the machine to be loaded and transported easily with a conventional truck.
Combination of axial bearing and vertical pin for oscillation the frame by 15 ° and bending the frame by 45 °.
The front share and rear shield have a width of 2200 mm.
Winch
Winch with spur gear in the gearbox offers 2 drums with large rope capacity.
In the standard version we offer a pulling force of 2 x 11 t.
Speed: two-stage 1.35 m / s - 0.65 m / s
Rope capacity: max. 2x 115 m, Ø14 mm
Hydraulic system
Working pump: 100 cm3 (220l @ 2200)
Pressure: max. Pressure 220 bar for all hydraulic components (except PTO)
Oil volume: 110 l tank + components
Hydraulic arm
As standard, we offer EQUUS 120 arm with the length of 9,5 m to our customers. The arm offers an above-standard lifting torque of 120 kN. The hydraulic arm can be folded in a horizontal position which allows an easy transport of EQUUS 175N UN wheeled machine using an ordinary truck. The robust construction allows for trouble-free handling of timber, not only its loading but also dragging.

As standard, we provide our customers with 035 version grapple manufactured by Gripen. With an area of 0.35 m2 and the maximum opening of 1880 mm, it offers an permissible load of up to 5000 kg. All this comes with the weight of 255 kg only.
Additional equipment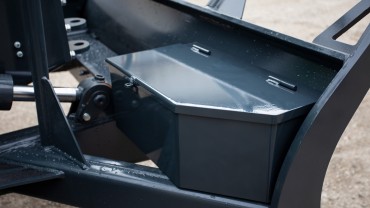 Pneumatiky
Pneumatiky 28L - 26 ALLIANCE FOREST min. šírka 2700 mm, 710/45 - 26.5
Pneumatiky 28L - 26 NOKIAN FOREST min. šírka 2700 mm, 710/45 - 26.5
Pneumatiky 28L - 26 TIANLI FOREST min. šírka 2700 mm, 710/45 - 26.5
Záberové REŤAZE EQUUS green line*, (made by RUD)
EQUUS TA14 ( blato +skaly) 14 mm 23.1-26
EQUUS TA16 ( blato +skaly) 16 mm 23.1-26
EQUUS BD20-16 ( blato ) 16 mm 23.1-26
EQUUS reťaze pre boogie
Kabína
Klimatizácia
Rádio MP3/USB/Bluetooth
Elektrické otočné pracovisko
Zadná kamera – základná verzia
8 x pracovné svetlá LED
Cyklovač stieračov
Imobilizér
Aretácia rámu

Predohrev/Nezávislé kúrenie
- motora a kabíny
- motora, kabíny a hydraulického oleja

Sedadlo
GRAMMER
- pneumaticky odpružené + opierky
GRAMMER ACTIMO XL
- pneumaticky odpružené + opierky + vyhrievanie + držiaky joystickov
GRAMMER EVOLUTION
- pneumaticky odpružené + opierky + vyhrievanie + držiaky joystickov +
+ ventilácia + bedrové dofukovanie + 3 smerné odpruženie

 

 

Naviják
Ťažná sila navijaku až 15 t
Kapacita bubna až 2x 160m, Ø14 mm
Oceľové valcované laná 2x 115m, Ø14 mm
Oceľové valcované laná 2x 160m, Ø14 mm**
Reťazové úväzky 2x2,5m + klzáky 2x3ks
**po konzultácii možnosť objednať aj iný rozmer lana

 

 

 

Hydraulická ruka
Hydraulická ruka Equus120, 9,5 m s dvojitým teleskopom
Osvetlenie hydraulickej ruky
Opierka hydraulickej ruky

Klembank

 

 

Diaľkové ovládanie B&B Telenot
- pre navijak
- pre navijak a pojazd

BIO-BALÍK
Bioodbúrateľný hydraulický olej + dodatočný filtračný okruh pre BIO olej

 

 

Vývod
- bez pojazdu (na zatáčanie oja)
- na pojazd (záleží od vlečky)

Ťažné zariadenie
– manuálne
– automatické

Brzdy pre príves
- Olejové
- Vzduchové

Predná radlica
Zuby (drapáky) na prednej radlici
Skrinky na náradie na prednej radlici
Držiak na motorovú pílu

PTO
- BASIC 50KW
- PROFI 110KW

Harvestorová hlavica
- NISULA 500 H,C
- NISULA 555 H,C
- SP 461 LF
- SP 561 LF

 

Ostatné
Predpríprava pre inštaláciu harvesterovej hlavice
Hydraulické čerpadlo 130 cm3 do max. 310 BAR
Zmena farby (okrem rámov, prednej radlice a zadného štítu)
Vákuová pumpa na hydraulický olej
Fun-Drive chladenie

 
In case you have not found the equipment you are looking for in the list, do not hesitate to contact us!