EQUUS 175N The best forestry tractor made in Slovakia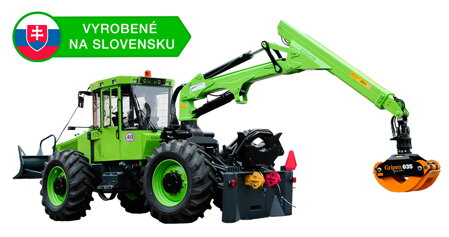 Introducing the EQUUS 175N forest tractor, whose main attributes are robustness, reliability and reliability. The easy-to-use, easy-to-use electronic tractor that meets the demanding contemporary criteria, equipped with state-of-the-art hydrostats with perfectly controlled cooling, combines a high-performance forestry machine with the ability to travel 40 km / h at a distance of more than 100 km! The lowest center of gravity in a given class predetermines it for work in the most demanding terrain.
Among the first we started to use state-of-the-art STAGE IV combustion engines, we increased the transmission efficiency and logic of the entire tractor, allowing us to save 20-30% of fuel per 1m3. This means not only fuel savings and emissions reductions, but also a longer service life, a better price / performance ratio, a higher profit per 1m3 and therefore the highest added value for the user.
Do you need a tractor that can handle, cut and transport wood in bulk and in short periods of time? Choose from a range of technical designs (standard, hydraulic hand, grapple, saw, harvester, output shaft, PTO ...), complete your tractor with the desired equipment and your dream tractor is here! ツ.
Latest events and exhibitions:
Najnovšie akcie a výstavy
From 15 to 18 August 2019, our Swiss distribution partner Gebr. Rappo AG will present the latest generation of the EQUUS 175N at the International Forestry Fair Lucerne. 

Na základe prejaveného záujmu o náš traktor prichádzame k Vám s možnosťou prezentácie nášho kolesového špeciálu priamo v ťažbe v Jeseníkoch na Šumpersku.

Interforst München

18.07. -22.07.2018

Stand 809/11
EQUUS 175 N forestry tractor and its features:
Forestry tractor EQUUS 175N - 
it is reliability, simplicity and affordable price.

Can you imagine a reliable, easy-to-use forestry tractor having no unnecessary electronic components that complies with the current demanding criteria?

Robustness, economy and reliability are the attributes for the  forestry wheeled tractor EQUUS 175 .